Starting in January 2019 in all Winexpert wine kits, potassium metabisulphite and potassium sorbate will be combined into one convenient, pre-measured packet. This change will be phased in as current supplies of individual sulphite and sorbate packets run out. There will be no change to the quality or dosage of each stabilizer. This change has been rigorously tested for quality, performance and efficiency.
New package look (please note that actual weights will differ from this picture)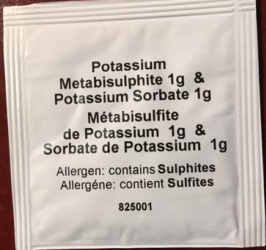 Along with the combined Potassium Metabisulphite and Potassium Sorbate packet, two additional add pack changes will also be phased in as current stock runs out. These changes will also begin in January 2019:
All 16L red, 18L red, and Après wine kits will now contain 1 x 150 mL Chitosan. This will replace the current 2 x 75mL packets. This is a packaging change only.
Updated instructions will be included to reflect the combined sulphite/sorbate packet. The updated instructions will also reflect minor wording changes to add clarity to the existing instructions.
Please contact Just Fine Wine with any questions. You can also visit www.winemakerschool.com for additional information and resources.