About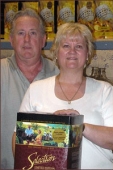 Just Fine Wine first opened its doors for business on Port Coquitlam's Kingsway Avenue in 1992. Eight years later, the shop moved to a new, improved and much larger location just a few blocks east on Kingsway. In 2001, long-time Port Coquitlam residents Doug and Leslie Webb purchased the existing business, providing instant stability and a renewed commitment to excellence.
The husband and wife team quickly achieved their objective of providing a clean, professional and trustworthy winemaking facility that offers the finest products and services available. Integrity, cleanliness, superior products, incomparable service and, most importantly, complete customer satisfaction are the foundation that Just Fine Wine has been built upon. These ideals continue to be pursued each and every day so their clients/friends can enjoy an unparalleled winemaking experience.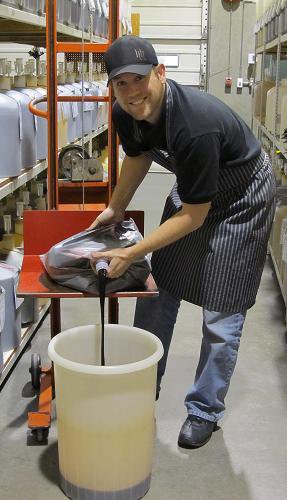 In 2008, son Jamie Webb joined the team on a full-time basis, making Just Fine Wine truly a family business and ensuring another generation of top quality winemaking.
The winemaking process is made easy at Just Fine Wine as they offer state-of-the art equipment within a bright and spacious 2000 square foot facility.  The shop has two bottling stations, each complete with a 4-head automatic filling machine and automatic corker.  You will also enjoy the use of synthetic corks and convenient peel & stick or vinyl labels.  Easily accessible with reserved parking right outside its doors, Just Fine Wine is located on Kingsway Avenue across from the Port Coquitlam Recreation Center and right beside the West Coast Express Park and Ride.  There are in-store sales and promotions year-round so keep your eye on this website or sign up for the e-newsletter.  Payment options include Visa, MasterCard, Debit, Cheques or Cash.
Just Fine Wine is your local Authorized Winexpert Retailer offering the best products on the market. Both Just Fine Wine and Winexpert fully guarantee your satisfaction. It all adds up to Wine You Can Trust, At A Price You'll Love!
---
Just Fine Wine is proud to be your authorized Winexpert retailer. Winexpert is widely regarded as the leader in the personal winemaking industry. Their commitment to excellence and dedication to delivering the highest quality products has made Winexpert the world's foremost supplier of premium wine kits. Their careful sourcing of supply combined with state-of-the-art processing facilities and stringent quality control procedures continue to set the industry standard. Everyone that represents Winexpert strives to positively affect quality at every level, from the vineyard to the glass, so that you can make the best wine possible – every single time!
---
Just Fine Wine is a member of the Fermenters Guild of British Columbia (FGBC). The Guild is dedicated to the success and growth of the "ferment on premises" industry in B.C. and the positive promotion of responsible beer and wine consumption. Through its member stores, the FGBC fosters professionalism, ethical business practices and continuous improvement of the wine and beer making experience on behalf of our customers. The FGBC strives to work closely and cooperatively with provincial and federal government ministries and departments, while diligently representing the needs and rights of consumers to make beer and wine within a professional small business environment.