Bag in Box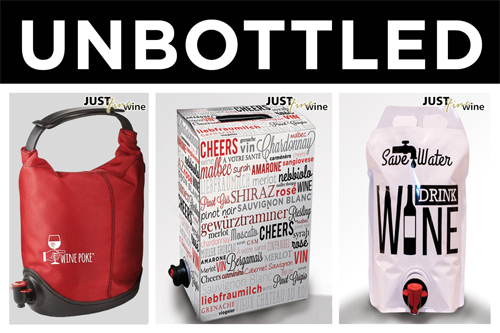 If you've taken a look inside a liquor store lately, it probably won't come as a surprise that boxed wine is currently the fastest growing segment in the commercial wine industry.* Of British Columbia's 100  best-selling wines, a whopping 50% of the total volume consumed comes from bag in box.**
Although price/value is a major contributor to the popularity of the format, boxed wine is not just for economical brands any more. Premium brand bag in box wines are beginning to appear on the shelves of liquor and wine stores; similar to the screw-cap revolution that took place in the early 2000's. Much like boxed wine, screw capped wine was at one time considered by many as cheap and unrefined; however, screw caps are now widespread throughout the commercial wine industry, including premium wines. History appears to be repeating itself with bag in box format.
*From IPSOS – ACT study Dec 2017          **BCLDB Data

Just Fine Wine believes that our clients deserve the same convenient options for their craft winemaking but at a better price…and for a better product! We are happy to announce that bag in box options are now available.
A dedicated, easy-to-use bag filling station has been created in-store to compliment our two existing bottling stations. Just Fine Wine is now able to offer the same bag in box convenience while bettering the price of liquor and wine stores by close to 50%. Yes, fifty percent! Five-Zero (See sample consumer cost analysis below). In addition, we have sampled some of the most popular boxed wines available on the commercial market and we can confidently say our 6-week Vintners Reserve & World Vineyard wines are a superior product.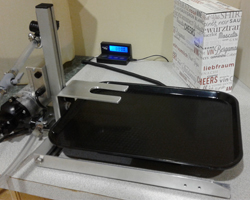 The entire winemaking process remains exactly the same for Bag in Box: Come in to the shop; choose your varietal or style; start your wine; wait 4 to 8 weeks; return to fill your wine bags; take home and enjoy! As you can see, the only difference is you will be filling bags instead of bottles.
Why Unbottle?
Inexpensive: You can make wine that is much better than the most popular brands in the Liquor Store, at nearly ½ the price.
Convenient: User friendly and easy to open. No shrinks, corks, corkscrews required. Easy to store, carry, go, pour, and share.
Less Storage Space: Takes up less space in your home compared to the equivalent in bottles. Easier to store and transport.
Maintains Freshness: Can last 6 weeks in fridge once opened as opposed to an opened bottle that tends to last two or three days after opening.
Environmentally Friendlier: Less packaging per litre produces less waste (no shrink caps, corks or labels ending up in landfills). Cardboard boxes can be recycled with municipal collection and the 4L plastic bags can be returned to your local Encorp Return-It facility. Smaller footprint due to the reduced requirements to produce and transport raw materials required for Bag in Box (cardboard & bags vs. bottles, shrink caps, corks, and labels)
Versatile: You can (un)bottle any style in this format, from 3L to 23L.
Less Work. No cleaning or rinsing of bottles required before or after use. No fuss, no muss.
What Does It Cost?
The price of the wine remains exactly the same whether you use bottles or bags. Compared to equivalent wines in liquor and wine stores, you can save a bundle. Take a look at the cost analysis chart below to see just one example of how Just Fine Wine can save you nearly half of what you would spend for comparable commercial bag in box wines.
SAMPLE CONSUMER COST ANALYSIS: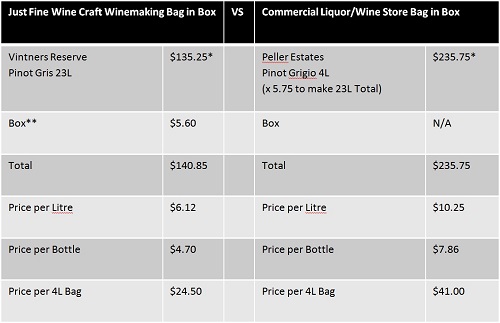 *Prices from Just Fine Wine & BCLDB as of May 2018 and includes all applicable taxes.
**Box is only an occasional cost as it can be re-used until it deteriorates (from general wear and tear) to the point of needing replacement.
When your wine is ready to bottle, six 4L Wine on Tap bags will be provided at no-charge for each on-premise wine ordered. We have a handful of box/vessel options for you to choose from which range in price from just under $5 up to $30. Listed below are the options we currently have available:
Box/Vessel Options
4L Cardboard Wine Box – $3.95
4L Wine Poke (Red, Black, Blue or Pink) – $39.99
Designed to fit 4L Wine Bags.

Stylishly designed cardboard construction that will fits in the refrigerator. Re-usable until box deteriorates.

Designed to Fit 4L Wine on Tap Bags. Made with durable nylon.

Has a nonslip rubber base to keep it steady on any surface including countertops, the fridge, at a picnic, or on a sailboat. Re-usable.

IMAGE TO COME
4L Wooden Wine Box – $25.00
6L Wooden Wine Box – $30.00
Designed to fit 4L Wine on Tap Bags.

Quality, hand-crafted wood construction suitable for countertops or the fridge. Re-usable.

Designed to fit 6L plastic Waiter Bags.

Quality, hand-crafted wood construction suitable for countertops or the fridge. Re-usable.
Bag Options
3L "Save Water Drink Wine" Carry and Go Bag – $4.25
4L Wine on Tap Bag with Spout

Free of charge (On-Premise) || $2.25 each (For Home Vintners)

6L Waiter Bags with Spout

Free of Charge (On-Premise) || $4.00 each (For Home Vintners)

Approximately 8 bags per 23L batch. Does not require a box/vessel. One time usage.
Approximately 6 bags per 23L batch. One time usage. Recyclable at Encorp Return It facilities or municipal recycling pick-up (where applicable).
Approximately 3 bags per 23L batch. One time usage. Recyclable at appropriate facilities.
FREQUENTLY ASKED QUESTIONS
How Long Does it Take To Fill The Bags?
A 23L batch of wine take approximately ten to fifteen minutes to complete on our automatic wine bag filling machine.
How Long Does Bagged Wine Last Once Opened?
Once a bag is unsealed, it can last up to six weeks in the refrigerator.
How Long Can I Age My Wine in Bags?
Bags are not intended for long term storage of your wine. Suggested time frame to consume bagged wine is six months to one year and we recommend staying closer to the six month mark.
Can I Re-use The Bags?
No. The bags are intended for single-use only. Once a bag is used – even if cleaned and rinsed afterwards –  it precludes 100% certainty of a safe & sanitary second use.
Do I Need A Box For Every Bag?
No. You can have a single box/container/vessel of your choice and simply rotate out an empty bag with a full one as required. If you would like more than one vessel, you are more than welcome to purchase as many as you see fit.
How Do I Store Bagged Wine?
As with bottled wine, bagged wine that is not currently in use should be stored in a cool, dark place. A consistent temperature is most ideal and be sure to avoid temperature extremes (both hot and cold).  We recommend storing your bags in a water-tight container such as a Rubbermaid container, Bottle Bin or something similar in case of an accidental rip, puncture, or the unlikely event of a bag failure of some sort. Please keep in mind to bring something similar to transport your wine from the shop to your home as well. No one wants to try and clean up several litres of wine out of the trunk of their car…and let's not even get into the loss of that wine!
Can I Bag Half of My Batch And Bottle The Other Half?
Yes. We can accommodate any combination of bags and bottles.