Barrel Aging
Make Great Wine Even Better!
Oak barrel aging can improve the quality of your wine. Oak's delicate vanilla scent and complex toastiness enhances the fruit flavours and aromas already present. In addition, even a short time in a barrel can mature a wine faster than a longer period of time in a regular carboy. Oak barrel aging can turn an average wine into a prizewinner and is often a common denominator in wines that reach beyond the ordinary.
Commonly, only full-bodied red wines and richly flavoured whites (such as Chardonnay and Sauvignon Blanc) are used for Barrel Aging. To a red, it gives a softness and complexity that adds great character. For some whites, it can increase aromatic qualities that make the wine truly special. The natural process of evaporation allows the wine to concentrate its flavor and aroma. As well, small amounts of oxygen are allowed to pass through the barrel and acts as a softening agent upon the tannins of the wine.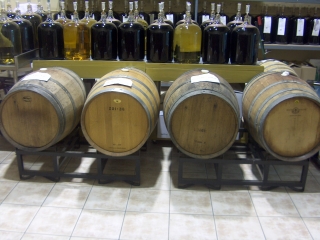 Just Fine Wine offers select varieties for Barrel Aging, available systematically throughout the year ~ typically every two to three months. The program is open to anyone and is especially popular with true wine lovers. The wines selected for the program are of the top caliber and the process is an additional $50 per batch (23 Litres). Availability is limited and space fills up quickly, so be sure to inquire about reserving yours today.
Now Taking Orders For:
ECLIPSE FORZA from Veneto, Italy

Bold and assertive with strength and structure, Eclipse FORZA quickly became an immensely popular "short run" offering back in 2015. FORZA, which means strength in Italian, is a bold red blend from Veneto, Italy. It's a spectacular partnership of Corvina, Sangiovese and Barbera and includes grape skins for added depth. After popular demand, Winexpert has secured a regular supply of superb quality juice, making this wine a permanent addition to our wine list.

Selection Italian Amarone

Intense, complex wine, with a wide array of flavours and aromas. Deep, nearly opaque red, this heavyweight exudes aromas of sour cherries, dark chocolate, stewed plums, dried fruits, anise, raisins, bitter almond, tobacco, leather and molasses, and has a spicy-earthy bittersweet finish that goes on and on, from the huge volume of tannins. Those familiar with Amarone will know that bottles of this style start at $40 in the liquor stores and many reach well over $100. Amazing value to be had at Just Fine Wine!

ECLIPSE Napa Valley Stag's Leap District Merlot

Year after year, our best selling wine. Stag's Leap Merlot outsells the next most popular wine by almost two to one. Light warm oak accentuates a spicy aroma with a soft, supple and fruity palate of plums and red berries. Rich, round flavour provides an elegant lingering finish. One of our best values, as you will currently find Stag's Leap Merlot for $45 plus per bottle in liquor stores! At this time we do not have a scheduled start and are only taking names. Keep in mind, the list always fills up quickly for this popular wine.
Contact Just Fine Wine today to reserve yours.