Barrel Aging
Make Great Wine Even Better!
Oak barrel aging can improve the quality of your wine. Oak's delicate vanilla scent and complex toastiness enhances the fruit flavours and aromas already present. In addition, even a short time in a barrel can mature a wine faster than a longer period of time in a regular carboy. Oak barrel aging can turn an average wine into a prizewinner and is often a common denominator in wines that reach beyond the ordinary.
Commonly, only full-bodied red wines and richly flavoured whites (such as Chardonnay and Sauvignon Blanc) are used for Barrel Aging. To a red, it gives a softness and complexity that adds great character. For some whites, it can increase aromatic qualities that make the wine truly special. The natural process of evaporation allows the wine to concentrate its flavor and aroma. As well, small amounts of oxygen are allowed to pass through the barrel and acts as a softening agent upon the tannins of the wine.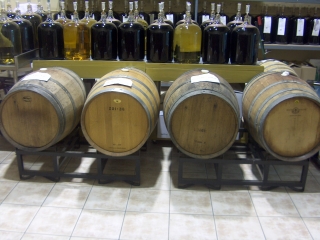 Just Fine Wine offers select varieties for Barrel Aging, available systematically throughout the year ~ typically every two to three months. The program is open to anyone and is especially popular with true wine lovers. The wines selected for the program are of the top caliber and the process is an additional $50 per batch (23 Litres). Availability is limited and space fills up quickly, so be sure to inquire about reserving yours today.
Now Taking Reservations For:
Winexpert Reserve Australian Chardonnay (SOLD OUT!)

Leave it to the Aussies to take the noble French grape and turn it into the wine equivalent of a full-on party. The Chardonnays of Australia continue to wow wine drinkers around the world with their unabashed celebration of opulent fruit and vanilla-oak, full-bodied flavour. Winexpert Reserve Australian Chardonnay is no exception. Tasting notes of ripe pineapple, mango and vanilla with a full, supple, creamy texture. This golden wine delivers from start to clean, lingering finish. Ideal with chicken, fish, salads and cream-sauce pastas.

Limited Release Winexpert Private Reserve Infusion (Whisky Barrel Steeped Cab Sauv/Zinfandel/Syrah) 

(SOLD OUT!)

INFUSION combines California's two favourite red varietals, Cab Sauv and Zinfandel, with Syrah, an increasingly popular variety in the state. Combined, the three make a bold wine with an abundance of rich red and dark berry flavours, and serious tannin. But it's the story behind the name INFUSION that really makes this wine unique. In a Winexpert first, juice for this limited release was pre-oaked in-house, steeping for several months with whisky oak chips specially sourced from Wayne Gretzky Estates Winery and Distillery. This pre-oaking adds roundness to the body, elevates tannin, and infuses the juice with nuanced sweet spice and vanilla character, making this wine a truly "great one".

Soft and quick to mature, this is the perennially popular French red wine blend that continues to keep them coming back with its smooth, easy charms. A Winexpert specialty blending of a host of grape varieties in the style of Châteauneuf-du-Pape, each contributing to the layers of aroma and flavours such as that make this so special. Raspberry, white pepper and licorice notes contribute to making this wine complex and full of character, yet supple and easy drinking. A popular style year-round and one we haven't aged in the barrels for a long time.

Winexpert Reserve Italian Luna Rossa (SOLD OUT!)

Bold, robust and intense: Winexpert's 'Big Red' is our largest, most full-bodied red wine. A dark, inviting colour and rich, bold oak-enchanced aromas suggest at what is to come: an abundance of mouth-filling, chewy flavours of ripe black cherry, blackberry and plums. Luna Rossa is complex, with rich layers of fruit and solid supporting tannins, capped by a long toasty oak finish. A powerful wine matching startling flavours and aromas with elegance and finesse.

Winexpert Private Reserve Sonoma Dry Creek Valley Chardonnay

(Only 2 Left!)

 Fruit shines through with gentle citrus aromas and generous tropical fruit flavours. Rich mouthfeel with vanilla undertones contribute to a fresh, well-balanced wine. A rich, round mouthfeel lingers to a long, crisp finish accented with a subtle touch of oak

Winexpert Private Reserve Italian Amarone w/Grape Skins

(Few Remaining!)

From Veneto, Italy comes Winexpert Private Reserve Italian Amarone is a spectacular partnership of grape varietals and includes grape skins for added depth. Deep ruby colour with rich aromas of dark fruit and spice combined with layers of cherry, plum, mocha, dried fruit flavours, warm oak and a firm, lingering finish. Known as Italy's most powerful wine, it is renowned as a full-bodied, rich wine that achieves intensity from the unique process of partially drying the grapes before fermentation. Commercially, Amarone starts at about $50 a bottle!

Winexpert Private Reserve Napa Valley Stag's Leap Merlot w/Grape Skins

Light warm oak accentuates a savoury, spicy aroma with a soft, supple and fruity palate of juicy plums and red berries. Smooth tannins and rich, round flavour provides a lush, polished texture as well as an elegant lingering finish. Harvested from the highly regarded Stag's Leap District on the valley's east bench, this Merlot is dry and heavy-bodied. Our best selling red wine on an annual basis, Stag's Leap Merlot often retails for $40+ per bottle in liquor and wine stores.

This Spanish red combines Bobal and Cabernet Sauvignon to deliver a medium-bodied wine with a fruity palate and silky tannin. Aromas of black fruit, mild spice, and subtle toasty oak. The first sip shows bright flavours of plum, cassis, and cherry joined by notes of licorice, cocoa, oak, and earthy nuances. Fresh acidity, soft tannin, and a light spicy sensation complete this polished blend.

 The regal Italian red you know and love with a bit of laid-back California charm. Nebbiolo maintains its strong tannin on North American soil but reins in some boldness, showing more voluptuous fruit and floral undertones. Aromas hint at rose and violet with notes of earth and spice. Cherry and raspberry flavours are forefront, while licorice, plum and chalky earth notes add depth. A gratifying wine with strong structure and balance thanks to Nebbiolo's characteristic high tannin and acidity.

This White Bordeaux style wine is a classic French blend of Semillon and Sauvignon Blanc. Citrus and grassy aromas lead to a gorgeous palate with refreshing grapefruit and lemon/lime flavours. Gooseberry, passionfruit, and green apple notes come through, hinting at honeysuckle and lemon peel. Serve lightly chilled to emphasize the vibrant acidity and prominent citrus flavours of this crisp dry white.

Tempranillo and Shiraz are exceptional blending partners creating a poignant blend abound with rich fruit and spice. Aromas of red berry, chocolate, and peppery spice set the tone for a palate packed with flavours of black cherry, raspberry, blueberry, and plum. Ripe tannin and rich spice lend to the lush mouthfeel, while layered notes of milk chocolate play off savoury elements of tobacco and licorice. A blockbuster example of how these two flavourful grapes amplify each other.

Contact Just Fine Wine today to reserve yours.