Barrel Aging
Make Great Wine Even Better!
Oak barrel aging can improve the quality of your wine. Oak's delicate vanilla scent and complex toastiness enhances the fruit flavours and aromas already present. In addition, even a short time in a barrel can mature a wine faster than a longer period of time in a regular carboy. Oak barrel aging can turn an average wine into a prizewinner and is often a common denominator in wines that reach beyond the ordinary.
Commonly, only full-bodied red wines and richly flavoured whites (such as Chardonnay and Sauvignon Blanc) are used for Barrel Aging. To a red, it gives a softness and complexity that adds great character. For some whites, it can increase aromatic qualities that make the wine truly special. The natural process of evaporation allows the wine to concentrate its flavor and aroma. As well, small amounts of oxygen are allowed to pass through the barrel and acts as a softening agent upon the tannins of the wine.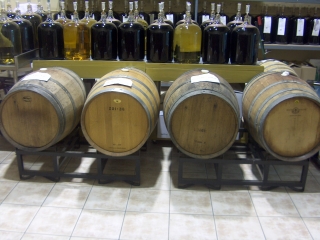 Just Fine Wine offers select varieties for Barrel Aging, available systematically throughout the year ~ typically every two to three months. The program is open to anyone and is especially popular with true wine lovers. The wines selected for the program are of the top caliber and the process is an additional $50 per batch (23 Litres). Availability is limited and space fills up quickly, so be sure to inquire about reserving yours today.
Now Taking Orders For:
All Red LE18 Varietals Plus LE18 Fume Blanc

Each year Winexpert amazes with their Limited Edition wines; exclusive 8-week wine kits that are available in restricted quantities. There are a number of factors that make these wines so exceptional, ranging from unique blends to hot industry trends to rare, hard to obtain and sought after varietals and regions. The main thing to note is that these spectacular wines are produced in limited quantity and once they're gone, they're gone. This year we are offering all three reds: California Black Cab (

SOLD OUT

); Chilean Corazon (ONLY 3 SPACES LEFT); and Italian Barbaresco with Grape Skins (SOLD OUT); as well as the lightly oaked white, New Zealand Fume Blanc (

SOLD OUT

). Demand has been incredible and we are doing multiple barrels of each LE18 win; however, space is limited and been snapped up extremely fast. So fast that only a few batches remain available in the third barrel of Corazon! CLICK HERE for all the details about the LE18 collection.
SELECTION Argentine Malbec

Selection Argentine Malbec is a medium/full-bodied, dry red wine with firm acidity, rich tannins and generous alcohol levels. Dark, inky purple colour and ripe fruit flavours of plums, black cherry and blackberry give an almost jammy character on the palate. Smoke, earth, leather, wild game, tobacco and white/black pepper along with intriguingly spicy notes make for an interesting medley of aromas and flavours, adding to layers of complexity. Definitely a wine for red meat, it is adaptable enough to stand up to spicy cuisines, such as Mexican, Cajun, Indian, Thai or Italian, working especially well with barbecue and other hard to pair meat-based dishes.
ECLIPSE Napa Valley Stag's Leap District Merlot

Year after year, our best selling wine. Stag's Leap Merlot outsells the next most popular wine by almost two to one. Light warm oak accentuates a spicy aroma with a soft, supple and fruity palate of plums and red berries. Rich, round flavour provides an elegant lingering finish. One of our best values, as you will currently find Stag's Leap Merlot for $45 plus per bottle in liquor stores!
Contact Just Fine Wine today to reserve yours.