Barrel Aging
Make Great Wine Even Better!
Oak barrel aging can improve the quality of your wine. Oak's delicate vanilla scent and complex toastiness enhances the fruit flavours and aromas already present. In addition, even a short time in a barrel can mature a wine faster than a longer period of time in a regular carboy. Oak barrel aging can turn an average wine into a prizewinner and is often a common denominator in wines that reach beyond the ordinary.
Commonly, only full-bodied red wines and richly flavoured whites (such as Chardonnay and Sauvignon Blanc) are used for Barrel Aging. To a red, it gives a softness and complexity that adds great character. For some whites, it can increase aromatic qualities that make the wine truly special. The natural process of evaporation allows the wine to concentrate its flavor and aroma. As well, small amounts of oxygen are allowed to pass through the barrel and acts as a softening agent upon the tannins of the wine.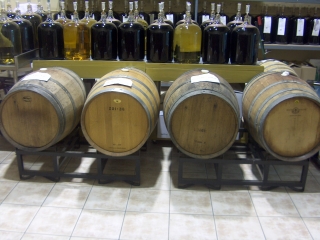 Just Fine Wine offers select varieties for Barrel Aging, available systematically throughout the year ~ typically every two to three months. The program is open to anyone and is especially popular with true wine lovers. The wines selected for the program are of the top caliber and the process is an additional $50 per batch (23 Litres). Availability is limited and space fills up quickly, so be sure to inquire about reserving yours today.
Now Taking Orders For:
SELECTION California Chardonnay

Full of citrus and tropical fruit flavours and warm vanilla oak.

ECLIPSE Sonoma Dry Creek Valley Chardonnay

Fruit shines through with citrus scents and tropical flavours in this fresh, well-balanced wine while its rich, round mouthfeel lingers to a long, crisp finish.

LE19 Spanish Terremoto Tempranillo 

(SOLD OUT)

The Tempranillo grape's thick skin gives the wine a deep ruby colour and moderate tannins. Medium-bodied and savoury, Terremoto Tempranillo has flavours of cherry, dried fig and cedar, with hints of leather and spices. Whether you're celebrating a big occasion like your 30th anniversary, complete with fireworks, or just toasting the end of a workday, this wine is the perfect accompaniment. Pair with braised meats, chorizo sausage or roasted eggplant.
SWEETNESS: Dry   ||   BODY: Medium   ||   OAK: Medium   ||   ABV: 13.5%*

LE19 Pacific Quartet Red 

(SOLD OUT)

Blending California Cab, Chilean Malbec, Australian Shiraz and Washington Merlot creates a most delectable, full bodied wine. The combination results in a well structured, tannic wine with a bouquet of blackberry and cherry. The palate offers rich berry overtones with hints of currant and dark chocolate and a toasty oak finish. Pair with rich meat and bean stews, roasted leg of lamb with rosemary, or aged cheddar.
SWEETNESS: Dry   ||   BODY: Medium-Full   ||   OAK: Medium   ||   ABV: 13.5%

LE19 South African Cape Blend with Grape Skins 

(SOLD OUT)

This exciting combination of Shiraz, Cabernet Sauvignon, Pinotage, and Grenache creates a wine that is truly outstanding! The dark berry flavours from the Cabernet Sauvignon balance nicely with the forward spiciness from the Shiraz. Pinotage, which is a grape varietal that is unique to South Africa, provides strong tannins and smoky, earthy characteristics while the Grenache contributes aromas of leather and licorice. Together, these elements offer a complex, full bodied wine that pairs well with roasted meats seasoned with marinades or savoury herbs and aged hard cheeses.
SWEETNESS: Dry   ||   BODY: Full   ||   OAK: Medium-Heavy   ||   ALCOHOL: 14%*

ECLIPSE Napa Valley Stag's Leap District Merlot (Start Date TBD)

Light warm oak accentuates a spicy aroma with a soft, supple and fruity palate of plums and red berries. Rich, round flavour provides an elegant lingering finish. Stag's Leap Merlot is our best selling red wine year after year.
Barrel Aged Reds Are Sold Out Until June. Please forward any requests to us as we fill out the barrel aging schedule for the remainder of the year. Stag's Leap Merlot will definitely be one of the first wines we will do after we are finished with the LE19's. This wine has huge barrel aging demand so reserve your batch(es) now!
Contact Just Fine Wine today to reserve yours.