Barrel Aging
Make Great Wine Even Better!
Oak barrel aging can improve the quality of your wine. Oak's delicate vanilla scent and complex toastiness enhances the fruit flavours and aromas already present. In addition, even a short time in a barrel can mature a wine faster than a longer period of time in a regular carboy. Oak barrel aging can turn an average wine into a prizewinner and is often a common denominator in wines that reach beyond the ordinary.
Commonly, only full-bodied red wines and richly flavoured whites (such as Chardonnay and Sauvignon Blanc) are used for Barrel Aging. To a red, it gives a softness and complexity that adds great character. For some whites, it can increase aromatic qualities that make the wine truly special. The natural process of evaporation allows the wine to concentrate its flavor and aroma. As well, small amounts of oxygen are allowed to pass through the barrel and acts as a softening agent upon the tannins of the wine.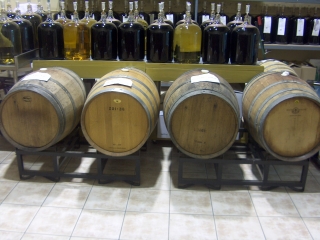 Just Fine Wine offers select varieties for Barrel Aging, available systematically throughout the year ~ typically every two to three months. The program is open to anyone and is especially popular with true wine lovers. The wines selected for the program are of the top caliber and the process is an additional $50 per batch (23 Litres). Availability is limited and space fills up quickly, so be sure to inquire about reserving yours today.
Now Taking Reservations For:
Winexpert Private Reserve Sonoma Dry Creek Valley Chardonnay (Only 2 Remaining!)

Fruit shines through with gentle citrus aromas and generous tropical fruit flavours. Rich mouthfeel with vanilla undertones contribute to a fresh, well-balanced wine. A rich, round mouthfeel lingers to a long, crisp finish accented with a subtle touch of oak.

Limited Release Winexpert Reserve Italian Dolcetto

(SOLD OUT!)

      

One of Italy's best kept secrets presents juicy black cherry and blackberry flavours with notes of vanilla, violet, licorice, and spice. Rich and round with a characteristic almond note on the finish. Available for the first time since 2009!

Limited Release Winexpert Private Reserve Australian Odyssey Shiraz with Grape Skins 

(Only 1 Remaining!)

The details are still forthcoming but this year's limited release Odyssey Shiraz is coming to you from the Riverland and Barossa Valley districts of Australia. This wine is sure to continue the tradition of greatness set by past "short-run" Private Reserve wines such as Fiero, 3 Moons Cabernet, Forza, Nocturnal and others.

Winexpert Reserve Australian Chardonnay (Only 2 Remaining!)

Leave it to the Aussies to take the noble French grape and turn it into the wine equivalent of a full-on party. The Chardonnays of Australia continue to wow wine drinkers around the world with their unabashed celebration of opulent fruit and vanilla-oak, full-bodied flavour. Winexpert Reserve Australian Chardonnay is no exception. Tasting notes of ripe pineapple, mango and vanilla with a full, supple, creamy texture. This golden wine delivers from start to clean, lingering finish. Ideal with chicken, fish, salads and cream-sauce pastas.

Winexpert Reserve Argentine Malbec

Full-bodied, dry red wine with firm acidity, and rich, bold tannins. Dark, inky purple colour with notes of ripe red and black berries, a hint of baking spice and a touch of smoke. Definitely a wine for red meat, it is adaptable enough to stand up to spicy cuisines, such as Mexican, Cajun, Indian, Thai or Italian, working especially well with barbecue and other hard to pair meat-based dishes. It's been a couple of years since we've barrel aged this fan favourite.

Winexpert Private Reserve French Bordeaux with Grape Skins

This is the very first time this new wine has been offered in the oak barrels! 90% of the wines from Bordeaux are red and contain Merlot and Cabernet Sauvignon grapes. In fact both Merlot and Cabernet Sauvignon originate from Bordeaux, France. This full bodied classic showcases plum, black currant, and red berries with warm spice character. Followed by subtle notes of cedar and chocolate. Smooth and silky from start to finish.

Winexpert Private Reserve Italian Amarone with Grape Skins

From Veneto, Italian Amarone is a spectacular partnership of grape varietals and includes grape skins for added depth. Deep ruby colour with rich aromas of dark fruit and spice combined with layers of cherry, plum, mocha, dried fruit flavours, warm oak and a firm, lingering finish. Known as Italy's most powerful wine, it is renowned as a full-bodied, rich wine that achieves intensity from the unique process of partially drying the grapes before fermentation. Commercially, Amarone starts at about $50 a bottle!
Contact Just Fine Wine today to reserve yours.