Barrel Aging
Make Great Wine Even Better!
Oak barrel aging can improve the quality of your wine. Oak's delicate vanilla scent and complex toastiness enhances the fruit flavours and aromas already present. In addition, even a short time in a barrel can mature a wine faster than a longer period of time in a regular carboy. Oak barrel aging can turn an average wine into a prizewinner and is often a common denominator in wines that reach beyond the ordinary.
Commonly, only full-bodied red wines and richly flavoured whites (such as Chardonnay and Sauvignon Blanc) are used for Barrel Aging. To a red, it gives a softness and complexity that adds great character. For some whites, it can increase aromatic qualities that make the wine truly special. The natural process of evaporation allows the wine to concentrate its flavor and aroma. As well, small amounts of oxygen are allowed to pass through the barrel and acts as a softening agent upon the tannins of the wine.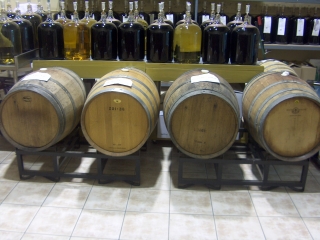 Just Fine Wine offers select varieties for Barrel Aging, available systematically throughout the year ~ typically every two to three months. The program is open to anyone and is especially popular with true wine lovers. The wines selected for the program are of the top caliber and the process is an additional $50 per batch (23 Litres). Availability is limited and space fills up quickly, so be sure to inquire about reserving yours today.
Now Taking Reservations For:
ECLIPSE Sonoma Dry Creek Valley Chardonnay

Fruit shines through with citrus scents and tropical flavours in this fresh, well-balanced wine while its rich, round mouthfeel lingers to a long, crisp finish.

Winexpert Reserve Australian Boomerang White

Chardonnay and Semillon may have their origins in France but combining the two has become a forte of the Australians. You will find this wine crisp and refreshing with a juicy palate of tropical fruit, subtle citrus and white peach notes.

Winexpert Reserve Australian Boomerang Red (SOLD OUT)

Sourced from the vineyards of Australia, Boomerang Red is a vibrant and velvety blend of Petit Verdot and Grenache. Experience a luscious blend of flavours that include rich dark fruit, plum and juicy red berry, all framed by well-integrated oak.

Winexpert Private Reserve Italian Fiero (SOLD OUT)

Sourced from Salento, Italy, Fiero is a lush Primitivo loaded with flavours of dark berries, cherry and plum, with accents of warm baking spice and dried fruit character. Juicy ripe fruit is perfectly balanced with racy acidity and fine-grained tannins for a smooth rounded finish.

Winexpert Private Reserve Napa Valley Stag's Leap District Merlot

(SOLD OUT)

Light warm oak accentuates a savoury, spicy aroma with a soft, supple and fruity palate of juicy plums and red berries. Smooth tannins and rich, round flavour provides a lush, polished texture as well as an elegant lingering finish. Harvested from the highly regarded Stag's Leap District on the valley's east bench, this Merlot is dry and heavy-bodied. Stag's Leap Merlot often retails for $40+ per bottle in liquor and wine stores and our best selling red wine year after year.
Only two or three barrel starts remain until the Limited Editions take up the bulk of the 2021 barrel aging calendar. Please forward any requests to us as we fill out the barrel aging schedule for the remainder of the year. Stag's Leap Merlot is a constant favourite and a likely candidate due to the large demand. Please give us your input and reserve your batch(es) now!
Contact Just Fine Wine today to reserve yours.