Travel may have been limited the last year and a half but it doesn't have to limit you from bringing worldly adventures to your own home with the LE21 Collection. Just Fine Wine and Winexpert are excited to bring you this year's showcase of five amazing wines from premier vineyards around the world.
There's a reason the Winexpert Limited Edition™ collection is our most sought-after craft winemaking kit. Sure to compliment any wine cellar, LE wines have a rich and celebrated tradition of excellence and ingenuity. Every year this exceptional series consists of five magnificent wines that explore the world's most distinguished wine growing regions, offering unique and exciting wines from classic varietals to exceptional blends. Whether a bold, sumptuous reds is your preferred choice or a light, bright, subtly sweet white is more up your alley, the LE21 collection offers something for every wine lover (scroll down for complete wine by wine descriptions). Winexpert's search for superior quality juice has spans the globe and the upcoming lineup will take us from Australia to Spain to France to Italy and back to Spain again.
This annual program features hidden gems in limited quantities and is available by reservation only. These one-of-a-kind, limited release wines will provide you with unlimited adventure. Keep reading to see this year's stellar line up and be sure to submit your pre-order to Just Fine Wine by Saturday, November 13, 2021:
LE21 vintages are available for a limited time and by pre-order only. The wines are set to be released on a month to month basis from December 2021 through April 2022.  No deposit is required; however, to be able to continue this we ask that you honour your entire pre-order commitment. Pre-order deadline is Saturday, November 13, 2021. All LE21 wine kits produce approximately 23L (roughly thirty 750ml bottles) of finished product and are priced at $199 On-Premise and $144 Kit -Only (Grape Skin Kit is $215 On-Premise and $160 Kit-Only). Oak Barrel aging will be made available on a first come, first served basis for all three reds as well as the Macabeo Sauvignon Blanc. Oak Barrel Aging is an additional $50 fee and worth every penny. Submit your reservation today and avoid missing out on these fantastic wines!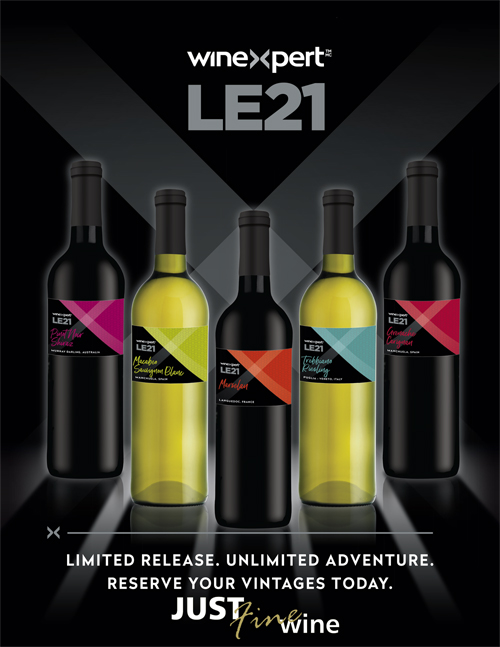 There are three ways to reserve your LE21 wine kits:
Email: info@justfinewine.ca
Call: 604.944.7818
In Person: Fill out your DOWNLOADABLE ORDER FORM and bring it to Just Fine Wine.
---
The LE21 Collection:
Available December 2021: Pinot Noir Shiraz – Murray Darling, Australia
Murray Darling is named for two of Australia's longest rivers, which run through the vast region and provide vital irrigation. The region is hot and dry, with long sunny days balanced by cool nights. The loamy and sandy soils are unique to the Murray River system and nourish strong vines. Together the heat, rivers and soils produce grapes which create soft and flavourful wines.
Pinot Noir and Shiraz may seem like an odd couple, but this uniquely Australian blend has a noble history and is currently making a major resurgence. Mixed berry, floral and soft spice aromas open to a vibrant palate of sour cherry and red fruit flavours with undertones of dark plum, blueberry, light licorice and spice. Silky tannins and bright acidity complete this juicy and energetic blend.
SWEETNESS: DRY  ||  OAK: MEDIUM  ||  BODY: MEDIUM  ||  ALCOHOL: 13.5%
FOOD PAIRING SUGGESTIONS: Herb crusted salmon, sausages, duck dishes, roasted root vegetables, or pan-fried tofu.
SIGNATURE FOOD PAIRING: Pork Tenderloin with Forest Mushroom Sauce.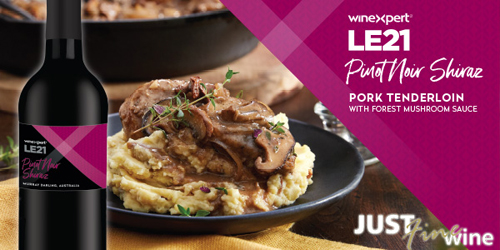 PRICE: $199.00 On-Premise | $144.00 Kit-Only
Suggested Commercial Equivalent: Johnny Q Shiraz Viognier  (SKU #340075) $17.34
YOU SAVE $10.63 PER BOTTLE!
---
Available January 2022: Macabeo Sauvignon Blanc – Manchuela, Spain
Manchuela is framed by the Júcar and Cabriel rivers, whose sediments make up the limestone-based clay soils. Two large reservoirs to the north provide irrigation during the very dry growing season. Vineyards here are 600-1000m above sea level; the altitude has a cooling effect and combines with fresh Mediterranean winds to moderate the hot summer days. This helps slow ripening, resulting in white grapes that produce fresh, fruity wines with good acidity.
Macabeo and Sauvignon Blanc are perfect partners in this bright and balanced blend. Together they show aromas of citrus and tropical fruit, with soft white blossom. The palate is lush and layered with pronounced flavours of green apple, pear, grapefruit and tropical fruit, with light notes of honeysuckle and grass. Fresh and flavourful with lively acidity, elegant complexity, and medium persistence.
SWEETNESS: DRY  ||  OAK: NONE  ||  BODY: MEDIUM  ||  ALCOHOL: 13%
FOOD PAIRING SUGGESTIONS: Rice dishes, seafood, vegetable tempura.
SIGNATURE FOOD PAIRING: Baked Feta With Tomatoes, Capers & Olives.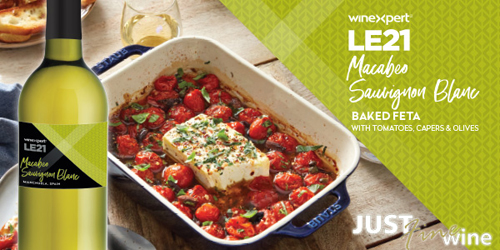 PRICE: $199.00 On-Premise | $144.00 Kit-Only
Suggested Commercial Equivalent: Cono Sur Sauvignon Blanc (SKU #813576) $18.49
YOU SAVE $11.78 PER BOTTLE!
---
Available February 2022: Marselan – Languedoc, France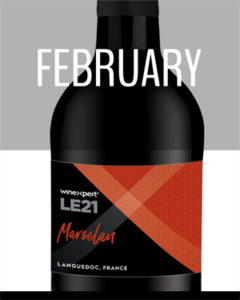 Languedoc, France is the true home of Marselan; it was developed here in 1961 and takes its name from Marseillan, a coastal village near where it was first bred and planted. Soils vary across the large region with limestone and clay the most common. The Mediterranean climate, with hot sunny days tempered by cool seabreezes at night, makes the Languedoc a perfect place for growing grapes.
A hybrid of Cabernet Sauvignon and Grenache, this relatively young French varietal displays the best characteristics of both parents. Marselan is deeply coloured with a powerful nose of jammy red and black fruits and spice. The palate delivers rich ripe fruit flavours of blackberry, plum and black currant with spicy notes, balanced acidity, and well-rounded tannins. Supple, smooth, and seductive.
SWEETNESS: DRY  ||  OAK: MEDIUM  ||  BODY: MEDIUM-FULL  ||  ALCOHOL: 13%
FOOD PAIRING SUGGESTIONS: Charcuterie, grilled meat (bbq, burgers, pork chops), fresh lasagna with pesto, lamb navarin, dark chocolate desserts.
SIGNATURE FOOD PAIRING: Grilled Lam & Fig Skewers.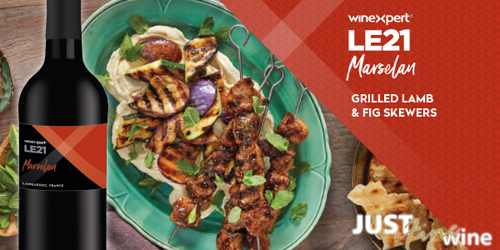 PRICE: $199.00 On-Premise | $144.00 Kit-Only
Suggested Commercial Equivalent: Perrin Cotes du Rhone (SKU #363457) $20.79
YOU SAVE $14.08 PER BOTTLE!
---
Available March 2022: Trebbiano Riesling – Puglia & Veneto, Italy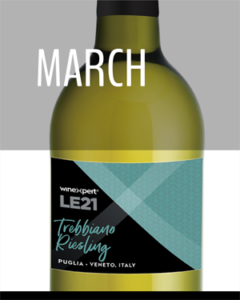 North and South come together in this fresh blend. The Trebbiano comes from Puglia in the south, the heel of Italy's boot. The dry heat, balanced by cooling breezes from the surrounding seas, along with the region's fertile soils create the perfect conditions for growing mature and fruity grapes. In the north, the long summers of picturesque Veneto bring Riesling to full ripeness and the cool nights help the varietal retain freshness and its natural high acidity.
Lemon peel, melon, and green apple on the nose with a light chamomile undertone. The palate offers orchard fruit flavours of yellow apple and white peach fused with melon, citrus, and fresh minerality. This inviting blend showcases the high natural acidity of both Trebbiano and Riesling; it's fun, fresh, and fruity with a touch of sweetness and a lot of pizzazz.
SWEETNESS: OFF-DRY  ||  OAK: NONE  ||  BODY: MEDIUM  ||  ALCOHOL: 12.5%
FOOD PAIRING SUGGESTIONS: Pasta, shellfish, mature hard cheeses, risotto, or enjoy as an aperitif.
SIGNATURE FOOD PAIRING: Lemon & Rosemary Butter Braised Shrimp.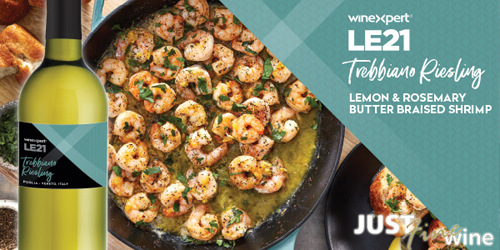 PRICE: $199.00 On-Premise | $144.00 Kit-Only
Suggested Commercial Equivalent: Giacondi Trebbiano Rubicone (SKU #443051) $16.29 1.5L
YOU SAVE $2.87 PER BOTTLE!
---
Available April 2022: Grenache Carignan with Grape Skins – Manchuela, Spain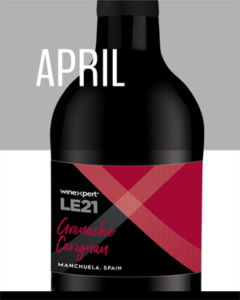 The climate in Manchuela is ideal for reds; the inland region has a continental climate with high daytime temperatures and long hours of sunshine but is still close enough to the coast to experience cool nights thanks to Mediterranean winds. This temperature swing creates favourable conditions for red grapes to slowly ripen, perfectly developing tannin, colour, and varietal character. The resulting wines show excellent flavour, colour, and mouthfeel.
Grenache Carignan – Garnacha Cariñena in Spanish – is at once intense and harmonious. Deep ruby red with alluring aromas of blackberry, spice, and leather nuances. A provocative palate of black fruit, cherry, redberry and plum with well-integrated oak and accents of licorice and spice. Rich velvety tannins, moderate acidity, and a long savoury finish.
SWEETNESS: DRY  ||  OAK: HEAVY  ||  BODY: FULL  ||  ALCOHOL: 14%
FOOD PAIRING SUGGESTIONS: Grilled lamb, sausages, hearty winter stews.
SIGNATURE FOOD PAIRING: Southwest Strip Loin with Skillet Succotash.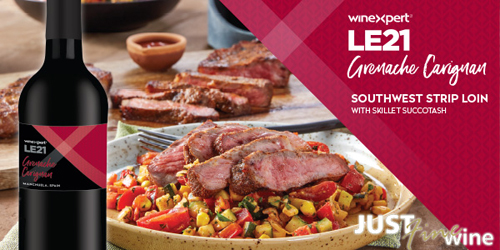 PRICE: $215.00 On-Premise | $160.00 Kit-Only
Suggested Commercial Equivalent: Anciano Calatayud Old Vines Garnacha (SKU #167740) $23.09
YOU SAVE $15.85 PER BOTTLE!
---
Don't Miss Out. Reserve Your LE21 by Pre-Ordering Today:
Email: info@justfinewine.ca
Call: 604.944.7818
In Person: Fill out your DOWNLOADABLE ORDER FORM and bring it to Just Fine Wine.
LE21 Pre-order deadline is Saturday, November 13, 2021.
---
What is LE?
Each year Winexpert produces a limited quantity of five fabulous and unique varieties from around the world that are released monthly from December through April. LE – or Limited Edition – wines vary year to year and can be one or a combination of the following: unique blends, hot industry trends, highly sought after regions/vineyards; and scarce or hard to obtain grapes/juice. One thing remains from one year to the next, LE collections always produce wine of superior quality.
LE vintages are available only during the month of their release. They are limited in supply and are so immensely popular that they can be acquired by pre-order only. The LE program has built a reputation of delivering exceptional, award-winning wines year after year. This speaks to the high quality wines that these very special wine kits produce and that's why LE continues to be the biggest most successful limited release brand. Each and every year, LE wines are awarded medals at the WineMaker International Amateur Wine Competition; a testament to the superior quality of the LE program. The LE21 collection will continue this tradition; so be sure to make your wine cellar an award-winning one. Contact Just Fine Wine for any further information or to place your pre-order today.