With great excitement Just Fine Wine and Winexpert present to you two Limited Release wines: Selection Whisky Barrel Cabernet Merlot and Selection Pacifica White.
Comprised of four varietals sourced from around the Pacific Rim, Selection Pacifica White returns after debuting nearly a decade ago as part of the 2010 Limited Edition series. With noticeable acidity and excellent structure, this wine features flavours of peach, honeysuckle, apple-pear and tropical fruit. Fans of Pacific Quartet, this one is right up your alley.
On the heels of last year's successful Bourbon Barrel Zinfandel Cabernet comes Selection Whisky Barrel Cabernet Merlot. The Merlot comes to us from California and we couldn't be happier to announce that the Cabernet Sauvignon in this classic blend has been harvested from our own backyard in the Okanagan. The wine boasts ripe berry fruit flavours with structured tannins and high acidity. A blend of peated and unpeated oak chips from genuine Whisky barrels adds nuances of vanilla, tobacco and spice. If you are a fan of the current trend of whisky barrel aged wine, in particular Wayne Gretzky No.99 Whisky Oak Aged Red, this wine is for you.
Selection Pacifica White & Selection Whisky Barrel Cabernet Merlot are available in limited quantities. The Cab Merlot, in particular, is extremely short on supply – so much so that we only have a handful left available following our pre-order period. Act now or miss out – contact Just Fine Wine to secure your batch(es) today! Selection Pacifica White & Slection Whisky Barrel Cabernet Merlot will be available at Just Fine Wine beginning June 19th, 2019 and only only while quantities last. Ready in only 6-8 weeks and producing 23L (approximately thirty 750ml bottles) of finished wine, both wines are priced at $190 On-Premise or $135 Kit-Only.
---

Our SELECTION: Pacifica White
THE REGION: This unique blend has been sourced from the best of the Pacific Rim wine growing regions. Australia's warm climate produces Semillon of outstanding character. The cooler climate of Chile makes a smooth and well-rounded Chardonnay, while the similar temperatures in New Zealand achieve an explosive, intense Sauvignon Blanc. The Viognier is sourced from the US Pacific Northwest where the marine influences contribute to the perfect growing conditions for this grape.
THE WINE: Staying true to our last release of Pacifica White in 2010, this wine showcases bright fruit and excellent structure. The Viognier offers flavours of peach and honeysuckle. The Semillon lends aromas of vanilla and butterscotch, while the Chilean Chardonnay adds more tropical fruit and apple-pear flavours. Finally, the Sauvignon Blanc adds the noticeable acidity in addition to the essence of passion fruit and gooseberry.
THE STYLE: FULL-BODIED WHITE   BODY: FULL   OAK: NONE   SWEETNESS: OFF-DRY   ALCOHOL: 11.5%*
THE FOOD PAIRING: Try it with a spring Pad Thai with green garlic, asparagus and peas or spaghetti with prawns, chili peppers and garlic.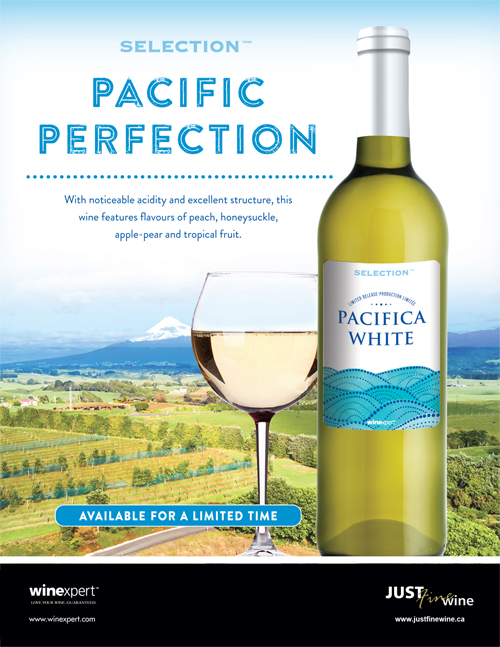 ---
OUR SELECTION: Whisky Barrel Cabernet Merlot
THE REGION: The Okanagan Valley in British Columbia has a terroir that is affected by the deep Okanagan Lake and the surrounding mountains. The moderately cold but short winters and the hot summer temperatures allow for the production of an exceptionally well-balanced Cabernet Sauvignon. Paso Robles, located on the Central Coast of California, enjoys a long growing season and a healthy harvest which is the perfect condition for growing high quality Merlot.
THE WINE: The easygoing California Merlot is the perfect partner to the full-bodied BC Cabernet Sauvignon in this delectably versatile blend. The ripe berry fruit flavours, the structured tannins and the high acidity combine to create a wine that truly shines. The addition of peated and unpeated oak chips from genuine Whisky barrels adds nuances of vanilla, tobacco and spice.
THE STYLE: FULL-BODIED RED   BODY: FULL   OAK: WHISKY BARREL   SWEETNESS: DRY   ALCOHOL: 13%*
THE FOOD PAIRING: This wine's versatility makes it a match for a variety of dishes! Keep it simple with pepperoni pizza or be creative and pair it with a rich, roasted leg of lamb with rosemary and garlic.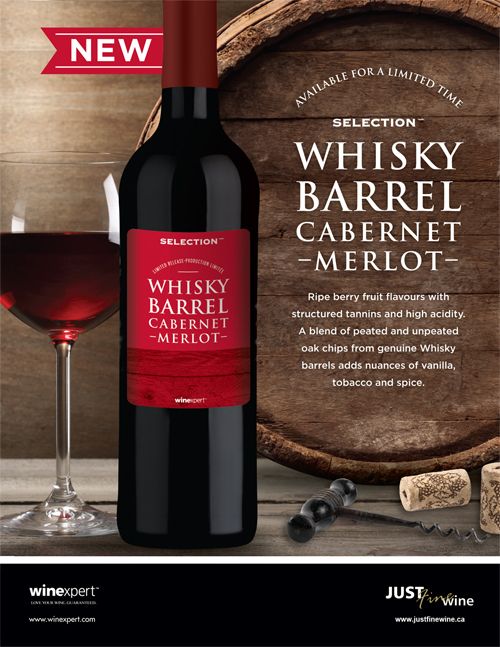 *Alcohol level based on following Winexpert winemaking instructions.