March is here and with it comes the first deliveries of LE18 California Symphony Gewürztraminer to Just Fine Wine. If you submitted a pre-order for this amazing combination, please stop by the shop and we can get yours started (or send you home with a kit if you are a home winemaker). Just think, a very short eight weeks and you'll be enjoying this perfect off-dry blend – hopefully with some nice Spring weather.
For anyone who missed the pre-order deadline or for those who are interested in topping up their orders, we have an extremely limited number of "overstock" kits available for purchase. Act now because all of our LE18 extras are available on a first come, first served basis and are moving very quickly.
Available March 2019: Symphony Gewürztraminer – Sierra Foothills, California, USA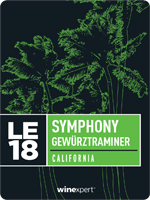 REGION: SIERRA FOOTHILLS, CALIFORNIA, USA – The Sierra Foothills were the center of the California Gold Rush in the mid-1800s. European immigrants flocked here seeking their fortunes and planted the area's first vineyards as they settled into life in the Wild West. Rustic and remote compared to the state's other regions – Gold Rush ghost towns still dot the countryside – growers take full advantage of the varied terrain of the foothills, utilizing the slopes to maximize sun exposure. The shallow soil is mainly decomposed granite, shale or volcanic matter; not particularly fertile ground, nor does it retain much moisture in a region where water can be scarce. These harsh-sounding conditions are actually good news for grapes as the vines yield less fruit, resulting in more concentrated flavours.
WINE: Symphony is one of California's hidden gems bringing peach, apple and tropical fruit flavours, it is a natural and perfect complement to Gewürztraminer's characteristic lychee notes. An aromatic blend with floral and juicy peach aromas, this o-dry wine deliciously combines lush tropical and stone fruit flavours. Crisp and bright with expressive fruit and subtle sweetness, this wine really sings when chilled. A beauty to sip on its own, or a perfect companion to spicy Asian dishes, zesty barbecue or baked ham.
LE18 PAIRING:  Mango Curry Chicken Thighs  CLICK HERE for Recipe.
SWEETNESS: Off-Dry
BODY: Light-Medium
OAK: None
ALCOHOL: 12%*
PRICE: $193.00 On-Premise | $138.00 Kit-Only
*Alcohol level based on following Winexpert winemaking instructions.