March already!?! Time sure is rushing by. The silver lining is that LE17 Milagro Blanco from La Mancha, Spain is now available at Just Fine Wine. If you pre-ordered this limited edition, please drop into the shop so that we may take care of you. LE17 Milagro Blanco takes six to eight weeks from start to finish so this wine should be ready in plenty of time for the patio season.
Missed the pre-order deadline? Interested in topping up your order? No problem. We have an extremely limited number of "overstock" kits available for purchase. Act fast, these extras are available on a first come, first served basis while quantities last.
Available March 2018: Milagro Blanco – La Mancha, Spain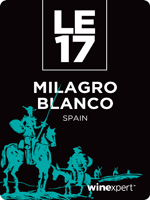 REGION: LA MANCHA, SPAIN – La Mancha is steeped in history and is believed to have been producing wine since the Roman empire. A challenging place to grow grapes, the region is found in hot and dry central Spain, south east of Madrid where the rivers provide much needed water. Hard working vines planted in water-absorbing limestone and chalk sub-soil produce grapes that boast concentrated flavours that burst on the palate.
WINE: Muscat, Verdejo and Sauvignon Blanc are wonderful on their own but sing when blended together. Muscat is fruity and crisp, Verdejo has mineral and citrus notes, and Sauvignon Blanc is herbaceous with pleasing acidity. When married, their unique elements create an off-dry, soft, refreshing, fruit-forward wine with a bright bouquet and a complex finish. MILAGRO BLANCO carries notes of passion fruit and white flower on the nose, and is supported by juicy melon, peach, fresh lime and grass with a hint of honey on the palate. The fruity and floral character of this white wine pairs exquisitely with moderately spiced Szechuan, Thai and Vietnamese dishes. Lighter meats like chicken and white fish with green salad dressed in light vinaigrette are natural matches for a fresh, tantalizing meal.
LE17 PAIRING: Spicy Chicken Buddha Bowls. CLICK HERE for Recipe.
SWEETNESS: Off-Dry
BODY: Medium
OAK: None
ALCOHOL: 13%*
PRICE: $189.00 On-Premise | $134.00 Kit-Only
*Alcohol level based on following Winexpert winemaking instructions.