Just Fine Wine is excited to bring you wine…with a twist. Full fruit flavour and authentic cocktail taste are twisted into these refreshing wine-based drinks that are sure to shake things up this Summer. Kick back and relax with this modern twist on wine.
The 2022 Twisted Mist program will offer two different limited release RTD (ready to drink) beverage kits each month in March, April, and May (scroll down for details). RTDs have been the fastest-growing category in beverage alcohol. This is in part due to the increased demand for lower alcohol drinks as well as the desire for refreshing, flavourful and premixed bar-like cocktails at home. Twisted Mist brings this trend to the on-premise craft winemaker and the DIY home vintner/brewer.
You can enjoy your Twisted Mist your way either in wine bottles, bag in box, or carbonated* in 500 mL PET (plastic twist cap) bottles. The latter two options are great for on the go, on the pool deck, on the beach, or on the boat.
Available at Just Fine Wine for a very limited time only!
*carbonation fee is an additional $30.00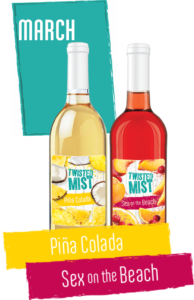 Winexpert Twisted Mist Piña Colada is a tropical masterpiece and Puerto Rico's official drink. Translated from Spanish, it means "strained pineapple" and there are legends that it may have been created by Puerto Rican pirate Roberto Cofresi in the early 1800's.  Juicy ripe pineapple and creamy coconut. Mmmm! ABV= 6.5%
Winexpert Twisted Mist Sex on the Beach is back! This cheekily-named classic cocktail that has been a fruity staple in restaurants, bars, and backyards for more than 30 years. Freshly squeezed orange, juicy peach and vodka flavours, rounded out with delicious tart cranberry notes. ABV= 6.5%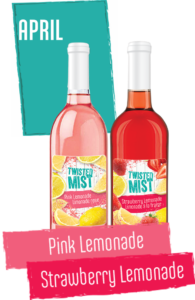 Winexpert Twisted Mist Pink Lemonade offers up the delightful flavour of squeezed lemons that makes for the classic taste of pink lemonade…with a kick. Just the right balance of sweet and tart. ABV= 7.5%
Winexpert Twisted Mist Strawberry Lemonade marries two favourite fruit flavours into one perfect drink. Sweet strawberry with the zing of tart lemonade perfectly combine for the ultimate summer refresher. ABV= 7.5%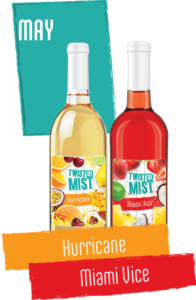 Winexpert Twisted Mist Hurricane Laissez les bon temps rouler (Let the good times roll) as they say in New Orleans, where this drink is staple. Enjoy a tantalizing flavour rush of dark rum, orange, lime and Passion Fruit. ABV= 6.5%
Winexpert Twisted Mist Miami Vice is a tropical paradise of strawberry, pineapple, lime and coconut. It has been described as a fusion of Strawberry Daiquiri and Piña Colada and originated in, you guessed it, Miami.ABV= 6.5%
These limited release Twisted Mists are delicious and super refreshing. Each kit produces 23L (approximately thirty 750ml bottles) of finished beverage and are priced at $130 On-Premise or $75 Kit-Only. Up your patio game this Summer and turn your backyard into refreshing-cocktail-central. Winexpert Twisted Mist Piña Colada and Sex on the Beach are available now; Winexpert Twisted Mist Pink Lemonade and Strawberry Lemonade will be available in April; and Winexpert Twisted Mist Hurricane & Miami Vice will be available in May. Winexpert is already SOLD OUT of their entire run of all styles of this product and our supply is extremely limited in quantity. So when we say "don't delay" we truly mean it – contact Just Fine Wine to order your batch(es) today!