Pacific Quartet (White) is the most popular Limited Edition ever. It's time to find out how Pacific Quartet Red measures up to it's namesake because shipments of this much anticipated blend have begun to arrive at Just Fine Wine. If you pre-ordered LE19 Pacific Quartet Red, please stop by the shop and we can get yours started (or send you home with a kit if you are a home winemaker). Then only a short eight weeks to discover how how great this wine is.
For anyone who missed the pre-order deadline or for those who are interested in topping up their orders, we have an extremely limited number of "overstock" kits available for purchase but you best act now. Unless we are able to secure some additional batches, we are already down to our last two kits.
Now Available: Pacific Quartet Red – Pacific Rim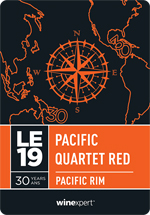 REGION: PASO ROBLES, CALIFORNIA, USA / MAULE VALLEY, CHILE / RIVERLAND, AUSTRALIA / YAKIMA, WASHINGTON, USA ~ The Pacific Rim, encompassed by North and South America on one side and Australia on the other, has microclimates that match those from all over the world. From blazing sunshine to crisp mountain air, and with soils ranging from sandy loam to stony red clay to nearly pure limestone and everything in between, the range and variety provide the perfect terroir for almost any grape, especially those found in this charismatic red blend.
WINE: For our 30th anniversary, we've decided to put a spin on one of Winexpert's most popular Limited Releases ever, introducing Pacific Quartet Red! We've selected the most revered red varietals from the same regions that are featured in Pacific Quartet. Blending California Cab, Chilean Malbec, Australian Shiraz and Washington Merlot and created the most delectable, full bodied wine. The combination results in a well structured, tannic wine with a bouquet of blackberry and cherry. The palate offers rich berry overtones with hints of currant and dark chocolate and a toasty oak finish. Pair with rich meat and bean stews, roasted leg of lamb with rosemary, or aged cheddar.
LE19 PAIRING: Caprese Flank Steak. CLICK HERE for Recipe.
SWEETNESS: Dry   ||   BODY: Medium-Full   ||   OAK: Medium   ||   ALCOHOL: 13.5%*
PRICE: $193.00 On-Premise | $138.00 Kit-Only
*Alcohol level based on following Winexpert winemaking instructions.