Coming to Just Fine Wine September 4th is Winexpert's newest Limited Release under the Après banner: Late Harvest Riesling.
If you've been searching for an after-dinner drink but find the sweetness of Ice Wine to be too much, then this wine is for you. Après Late Harvest Riesling is bright yellow in colour and features notes of ripe apricot, pear, and green apple. This wine's honeyed late harvest character is balanced by brilliant, naturally high acidity making it a perfect post-dinner treat.
Après Late Harvest Riesling takes 8 weeks to produce 11.5L (approximately thirty 375ml bottles or fifteen 750ml bottles) of finished product and is priced at $154 On-Premise ($263 for a double batch) or $104 Kit-Only – incredible value for a late harvest wine. Just Fine Wine will have this limited release available, while quantities last, beginning September 4th, 2019. Don't delay, contact us today to reserve your batch(es) because once they're gone, they're gone.
The timing is just right to have this wine ready for the Holidays. Bottles of Après Late Harvest Riesling are the perfect giveaways for friends, family, and party hosts. They also make for a classy gift to give to clients, customers, teachers, coaches, co-workers, and neighbours. If you can't bring yourself to part with full bottles (we completely understand!), you can always share yours with all those people we just mentioned. Dessert wines are quickly gaining in popularity amongst the Gen X and Gen Y crowd and are great for enjoying after dinner or informally around the fire on those long, chilly Autumn and Winter evenings. Contact Just Fine Wine to secure your's today.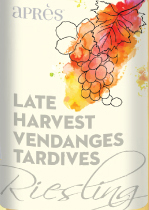 Late Harvest Riesling
Bright yellow colour with notes of ripe apricot, pear and green apple.  Honeyed late harvest character balanced by brilliant acidity.
Sweetness: Medium   Body: Full   Oak: None   Alcohol by Volume: 13%