The first LE18 Chilean Corazón wine kits have now arrived at Just Fine Wine. If you submitted a pre-order for this spectacular blend, please stop by the shop and we can get yours started (or send you home with a kit if you are a home winemaker). A mere eight weeks later you'll be enjoying the your first taste of  LE18 Corazón from the Curicó Valley in Chile.
For anyone who missed the pre-order deadline or for those who are interested in topping up their orders, we have an extremely limited number of "overstock" kits available for purchase. We also have four spaces available left available for Oak Barrel Aging. Don't delay, these extras are available on a first come, first served basis and don't hang around very longs.
Available February 2019: Corazón – Curicó Valley, Chile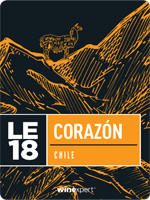 REGION: CURICÓ VALLEY, CHILE – Corazón, Spanish for 'heart', comes from the Curicó Valley located in the heart of Chile. Nestled in between the Andes and Coastal Range mountains, the valley's vineyards reap many benefits from these towering neighbours. Meltwater rivers provide irrigation during dry summer months and deposit rich minerals in the soil, and hot sunny days are balanced by cool air drifting down from the snow-covered peaks of the Andes at night; these daily temperature
swings cause the grapes to ripen slowly, allowing for optimal flavour, tannin and colour development.
WINE: This wine is a charismatic blend of Carménère, Cabernet Franc, Syrah, and Pais. Carménère, the signature Chilean grape, delivers jammy raspberry and herbal spice. Cab Franc brings bold cherry, juicy berry and acidity, while Syrah lends intense black fruit flavours and tannin. Pais, widely planted in Chile for centuries but little-known elsewhere, rounds out the blend with rustic red fruit and crisp acidity. This juicy blend is full of expressive black and red berries, surrounded by cherry and tart plum notes in harmony with underlying oak, bright acidity and smooth polished tannins. Pair with rosemary lamb chops, beef skewers, Portobello mushroom burgers and
aged cheddar.
LE18 PAIRING: Smoky Beef Koftas. CLICK HERE for Recipe.
SWEETNESS: Dry
BODY: Medium-Full
OAK: Medium
ALCOHOL: 13%*
PRICE: $193.00 On-Premise | $138.00 Kit-Only
*Alcohol level based on following Winexpert winemaking instructions.