This is it. April is here and with it comes the last release from the fabulous LE17 series. All the way from Apulia in Italy, LE17 Negroamaro with Grape Skins has now arrived in store at Just Fine Wine. If you pre-ordered this limited edition wine, please stop by the shop at any time to either start your wine here or pick up your kit to make at home. LE17 Negroamaro takes six to eight weeks from the sprinkling of the yeast until it's time to bottle. Should prove to be something really special by the Fall/Winter – if you're able to keep it around that long!
Missed the pre-order deadline? Interested in topping up your order? No problem. We have an extremely limited number of "overstock" kits available for purchase. Act fast, these extras are available on a first come, first served basis while quantities last.
Now Available: Negroamaro with Grape Skins – Apulia, Italy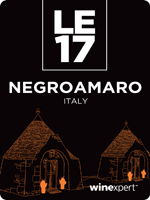 REGION: APULIA, ITALY – Bellissimo Italia…delightful wine, delicious food and stunning sun-soaked landscapes. Apulia (or Puglia in native Italian) exemplifies all of these things and more. Explore Apulia, the heel of Italy's boot and follow one of the longest coastlines of any wine region in the country. The Mediterranean Sea graces the region's vineyards with cooling winds maintaining ideal temperatures for growing. Sunny, warm and dry with some of the most fertile soil in Italy, the area offers the perfect environment for ripening grapes as well as olive trees and wheat fields that coexist with vineyards in this agricultural centre.
WINE: NEGROAMARO is richly jewel-hued, full bodied and a classic varietal in Apulia. Mild hints of wood and spice on the nose play with fruity notes for a complex aroma. On the palate, ripe berry is complemented by ground baking spice and silky tannins with a long finish. NEGROAMARO is hearty, versatile and evokes feelings of the beauty of its home. This wine couples well with many cuisines, but Italian, of course, is a flawless pairing. Choose an antipasto with spicy elements like salami or pepper marinated vegetables like eggplant. A simple but delicious peperonata can be enjoyed with crusty bread or as a side to roasted and grilled meat.
LE17 PAIRING: Rib Eye with Grilled Caponata Salad. CLICK HERE for Recipe.
SWEETNESS: Dry
BODY: Full
OAK: Medium-Heavy
ALCOHOL: 14.5%*
PRICE: $205.00 On-Premise | $150.00 Kit-Only
*Alcohol level based on following Winexpert winemaking instructions.