Just Fine Wine is excited to bring you wine…with a twist. Full fruit flavour and authentic cocktail taste are twisted into these refreshing wine-based drinks that are sure to shake things up this Summer. Kick back and relax with this modern twist on wine.
The 2023 Twisted Mist program will offer two different limited release RTD (ready to drink) beverage kits each month in March, April, and May (scroll down for details). Recently, RTDs have been the fastest-growing category in beverage alcohol. This is in part due to the increased demand for lower alcohol drinks as well as the desire for refreshing, flavourful and premixed bar-like cocktails at home. Twisted Mist brings this trend to the on-premise craft winemaker and the DIY home vintner/brewer.
You can enjoy your Twisted Mist your way either in wine bottles, bag in box, or carbonated* in 500 mL PET (plastic twist cap) bottles. The latter two options are great for on the go, on the pool deck, on the beach, or on the boat.
Available at Just Fine Wine for a very limited time only!
*carbonation fee is an additional $30.00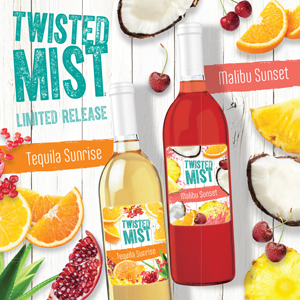 Winexpert Twisted Mist Tequila Sunrise: The popular modern version of this drink was first concocted in California in the 1970's. Enjoy flavours of tequila blanco, freshly squeezed orange juice, and grenadine. A Summertime smash that is sure to please. ABV= 6.5%
Winexpert Twisted Mist Malibu Sunset: While the history of this cocktail is unclear, it was likely invented in the early 1980's with the launch of coconut rum as a spinoff of the popular Tequila Sunrise drink. Malibu Sunset is a delightfully refreshing beachy drink. Layered with coconut rum, pineapple, orange, and maraschino cherry flavours. ABV= 6.5%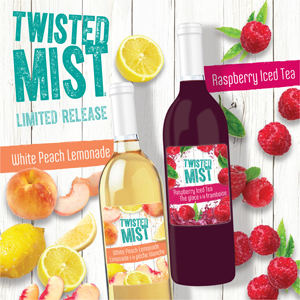 Winexpert Twisted Mist Raspberry Iced Tea: Juicy ripe raspberry and steeped iced tea flavours. Refreshing with a lightly tannic tea finish, makes for a classic Summertime drink…with a kick. ABV= 6.5%
Winexpert Twisted Mist White Peach Lemonade: A perfect balance of sweet and tart.  Mouth watering lemonade loaded with aromas and flavours of fresh white peach. Mmmm! ABV= 7.5%
Winexpert Twisted Mist Strawberry Lemonade: marries two favourite fruit flavours into one perfect drink. Sweet strawberry with the zing of tart lemonade perfectly combine for the ultimate summer refresher. ABV= 7.5%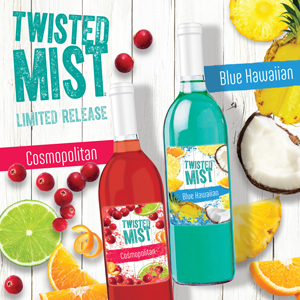 Winexpert Twisted Mist Cosmopolitan: From San Fransisco to New York to Miami, many people have been credited with the invention of the Cosmo. Regardless of the origin story, all versions were basically a basic riff on a Kamikaze. Classic cocktail flavours of cranberry, triple sec, and lime. ABV= 6.5%
Winexpert Twisted Mist Blue Hawaiian: There's no discrepancy in the history of this famous drink. Created by Harry Yee, bartender of the Hilton Hawaiian Village, in the late 1950's. Recognized for its distinct colour, this cocktail is fun and fruity with tropical flavours of pineapple, orange, Blue Curacao, and light coconut. ABV= 6.5%
These limited release Twisted Mists are delicious and super refreshing. Each kit produces 23L (approximately thirty 750ml bottles) of finished beverage and are priced at $130.75 On-Premise or $76 Kit-Only. Up your patio game this Summer and turn your backyard into refreshing-cocktail-central. Winexpert Twisted Mist Tequila Sunrise, Malibu Sunset and Strawberry Lemonade are available now; Winexpert Twisted Mist Raspberry Iced Tea and White Peach Lemonade will be available in April; and Winexpert Twisted Mist Cosmopolitan & Blue Hawaiian will be available in May. Winexpert is once again SOLD OUT of their entire run of all styles of this product and our supply is extremely limited in quantity. So when we say "don't delay" we truly mean it – contact Just Fine Wine to order your batch(es) today!