Happy New Year indeed. The first two releases of the LE19 series (Spanish Terremoto Tempranillo & Italian Pecorino Pinot Grigio) have arrived at Just Fine Wine. If you placed a pre-order for one or both of these wines, please drop into the shop (if you have not done so already) to pick yours up (home-winemakers) or to get yours started on-premise at the shop. From there its a quick 8 weeks until you'll be enjoying your newest batch of amazing Limited Edition wine.
For anyone who missed the pre-order deadline or for those who are interested in topping up their orders, we have an extremely limited number of "overstock" kits available for purchase. Act fast, these extras are available on a first come, first served basis and don't tend to hang around very long.
NOW AVAILABLE: LE19 Terremoto Tempranillo – Spain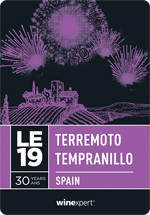 REGION: VALENCIA, SPAIN ~ Valencia, a sunny region located in the heart of Spain's east coast, is where one can find the Tempranillo grape. The Mediterranean climate of mild winters and very warm summers, combined with the gently sloping vineyards and permeable subsoils, creates the perfect growing conditions for this savoury grape. Valencia is also home to the famous annual Las Fallas festival which welcomes the arrival of spring with fireworks, pyrotechnics and colourful, giant paper-maché figures. Every day during the festival at 2pm, the city is filled with the sound of firecrackers, ultimately ending in the extraordinary finale called the Terremoto!
WINE: The Tempranillo grape's thick skin gives the wine a deep ruby colour and moderate tannins. Medium-bodied and savoury, Terremoto Tempranillo has flavours of cherry, dried fig and cedar, with hints of leather and spices. Whether you're celebrating a big occasion like your 30th anniversary, complete with fireworks, or just toasting the end of a workday, this wine is the perfect accompaniment. Pair with braised meats, chorizo sausage or roasted eggplant.
LE19 PAIRING: Manchego Stuffed Mini Peppers. CLICK HERE for Recipe.
SWEETNESS: Dry   ||   BODY: Medium   ||   OAK: Medium   ||   ALCOHOL: 13.5%*
PRICE: $193.00 On-Premise | $138.00 Kit-Only
*Alcohol level based on following Winexpert winemaking instructions.
---
NOW AVAILABLE: Pecorino Pinot Grigio – Italy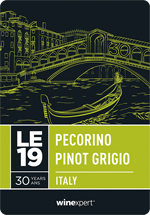 REGION: ABRUZZO & VENETO, ITALY ~ The Pecorino grapes are sourced from Abruzzo, Italy which is a mountainous region located along the Adriatic Sea. It is also home to the highest point on mainland Italy, Corno Grande. Veneto is located in northeast Italy and is the source region for the Pinot Grigio. The Influence of the nearby Alps provides a cooler microclimate where fresh, crisp white wines flourish.
WINE: Pinot Grigio was originally established as Pinot Gris in Burgundy and although most famous in Alsace, France, made its way to Switzerland in the 1300s and eventually to Northern Italy where Pinot Grigio was born. Today it is Italy's most popular grape. Pecorino has a bit of a different history; thought to be extinct in the mid 20th century, it was rediscovered in the 1980s by a local producer who then took cuttings and propagated them resulting in this grape's resurgence. Blending Pinot Grigio, the most popular Italian white wine grape, with the lesser known Pecorino grape results in a delicate white wine with high acidity, lemon, lime, and honeysuckle flavours, and an elegant floral aroma. Pair with steamed mussels, seafood risotto, and vegetarian spring rolls.
LE19 PAIRING: Lemon Garlic Shrimp & Farro Bowls. CLICK HERE for Recipe.
SWEETNESS: Dry   ||   BODY: Medium   ||   OAK: None   ||   ALCOHOL: 12.5%*
PRICE: $193.00 On-Premise | $138.00 Kit-Only
*Alcohol level based on following Winexpert winemaking instructions.