Just Fine Wine and Winexpert are excited to present to you two new Limited Release wines from the Winexpert Reserve series: Australian Boomerang Red & Australian Boomerang White.
Like their namesake, these wines are a great catch that will have you coming back for more again and again! Boomerang White consists of Chardonnay & Semillon, two French grapes that are most often combined in Australia. Boomerang Red is a rich blend of Petit Verdot, also a French Grape with Australian notoriety, and Grenache which is one of the most widely planted red wine grapes in the world.
Winexpert Reserve Boomerang Red and Winexpert Reserve Boomerang White will be available in limited supply beginning June 17th. Ready in 6-8 weeks and producing 23L (approximately thirty 750ml bottles) of finished product, both wines are priced at $185 On-Premise or $130 Kit-Only.
---

WINEXPERT RESERVE BOOMERANG WHITE
Chardonnay and Semillon may have their origins in France but combining the two has become a forte of the Australians. You will find this wine crisp and refreshing with a juicy palate of tropical fruit, subtle citrus and white peach notes.
BODY: MEDIUM  OAK: NONE   SWEETNESS: DRY   ALCOHOL: 13%*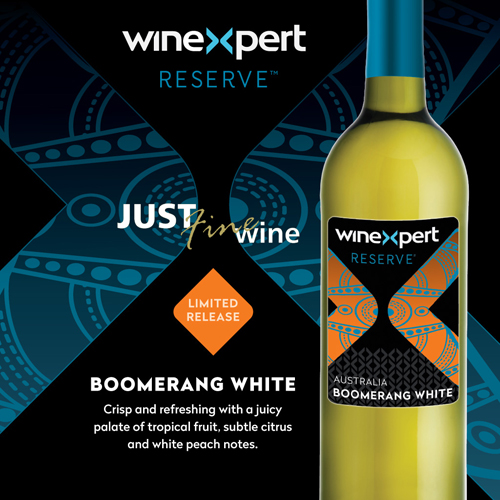 ---

WINEXPERT RESERVE BOOMERANG RED
Sourced from the vineyards of Australia, Boomerang Red is a vibrant and velvety blend of Petit Verdot and Grenache. Experience a luscious blend of flavours that include rich dark fruit, plum and juicy red berry, all framed by well-integrated oak and spice.
BODY: MEDIUM-FULL   OAK: MEDIUM   SWEETNESS: DRY   ALCOHOL: 13.5%*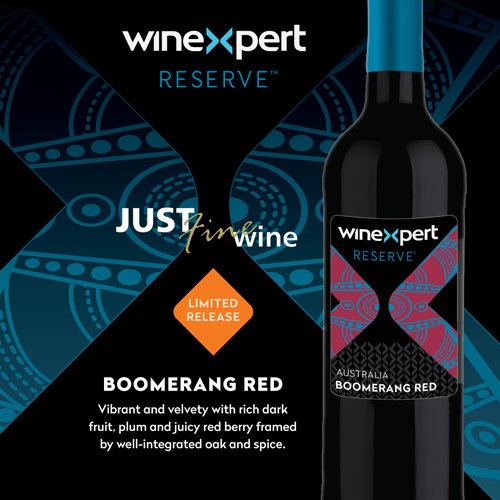 *Alcohol level based on following Winexpert winemaking instructions.