Are you ready for some juicy details? On August 21st, Just Fine Wine and Winexpert are pleased to offer you the latest Limited Release Après Dessert Wine: Sour Cherry.
This dessert wine is decadent with rich flavours and well balanced acidity that cuts through the sweetness of the wine. Après Sour Cherry Dessert Wine takes 8 weeks to produce 11.5L (approximately thirty 375ml bottles or fifteen 750ml bottles) of finished product. Priced at $150 On-Premise ($255 for a double batch) or $100 Kit-Only, this tasty treat will be available at Just Fine Wine beginning August 21, 2019 but for a limited time only. Be sure to contact us ASAP to guarantee availability.
The timing is just right to have this wine ready for the Holidays. Bottles of Après Sour Cherry Dessert Wine are the perfect giveaways for friends, family, and party hosts. They also make for a classy gift to give to clients, customers, teachers, coaches, co-workers, and neighbours. If you don't want to give any full bottles away (we completely understand!) dessert wines are excellent for sharing with your loved ones and guests. Sip after dinner or informally around the fire on those long, chilly Autumn and Winter evenings. Contact Just Fine Wine to secure your's today.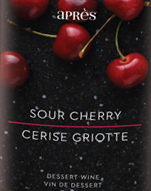 Sour Cherry Dessert Wine
Deep ruby with lovely sour cherry on the nose.  Tart cherry flavour that beautifully balances the sweetness of the wine. Warm, lingering finish.
Sweetness: Sweet   Body: Full   Oak: Medium   Alcohol by Volume: 17.5%
* due to legislation enforcing that only wines produced in specific regions of Portugal may use the name "Port", Winexpert now calls their product "Dessert Wine".  Name change aside, one thing you can be sure of is the same great taste! The finished product is as delicious as ever.